Crushing on NABLA Cosmetics
Hey friends, it's time you know that I'm crushing on NABLA Cosmetics. NABLA Cosmetics is a cruelty-free indie Italian beauty brand. Their love for animals is shared all over their website. Almost all of their products are vegan. The only NABLA products that are not vegan are those containing beeswax. My friend Viola, who used to blog at Killer Colours and can still be found on Instagram at KillerColours, introduced me to the brand.
Where to Buy
NABLA Cosmetics, Ulta, Beauty Bay
Purchased by me.
NABLA Mauve Christmas Set and Singles
Originally I purchased the Mauve Christmas Set. I also bought singles of City Wolf, Narciso, Lilac Wonder, Water Dream, Millennium, Alchemy, and Virgin Island.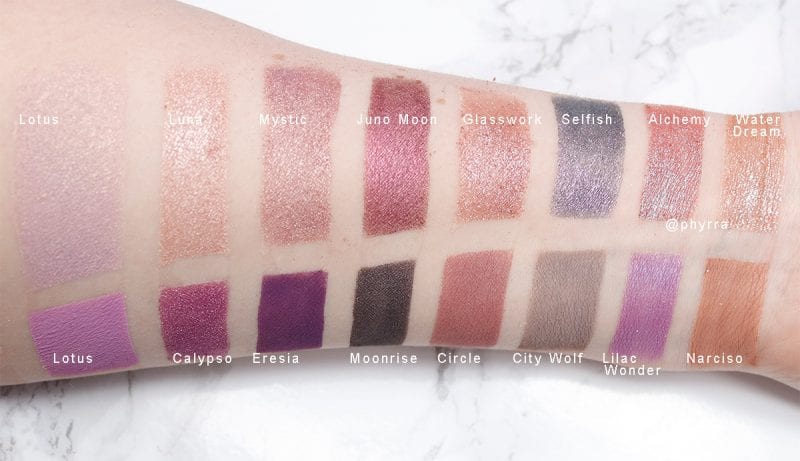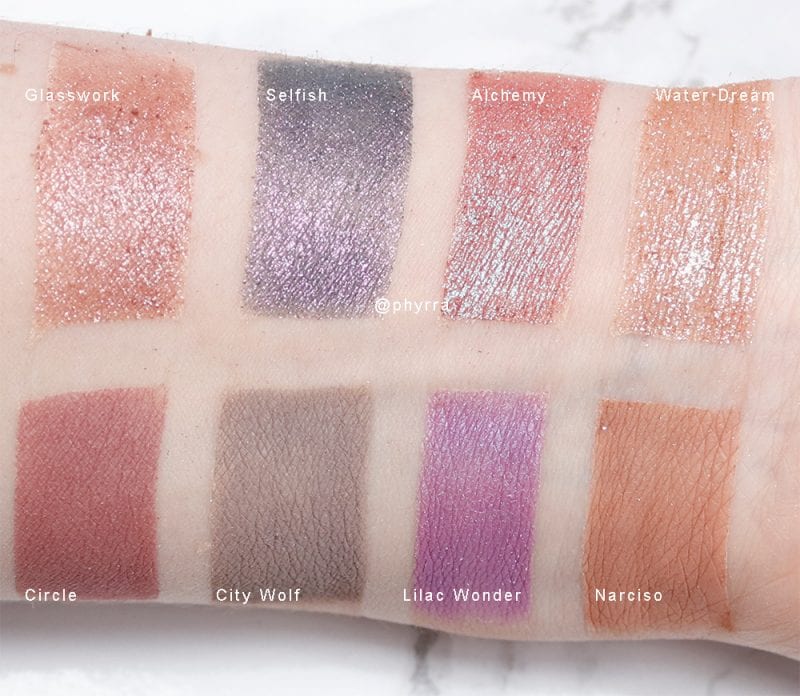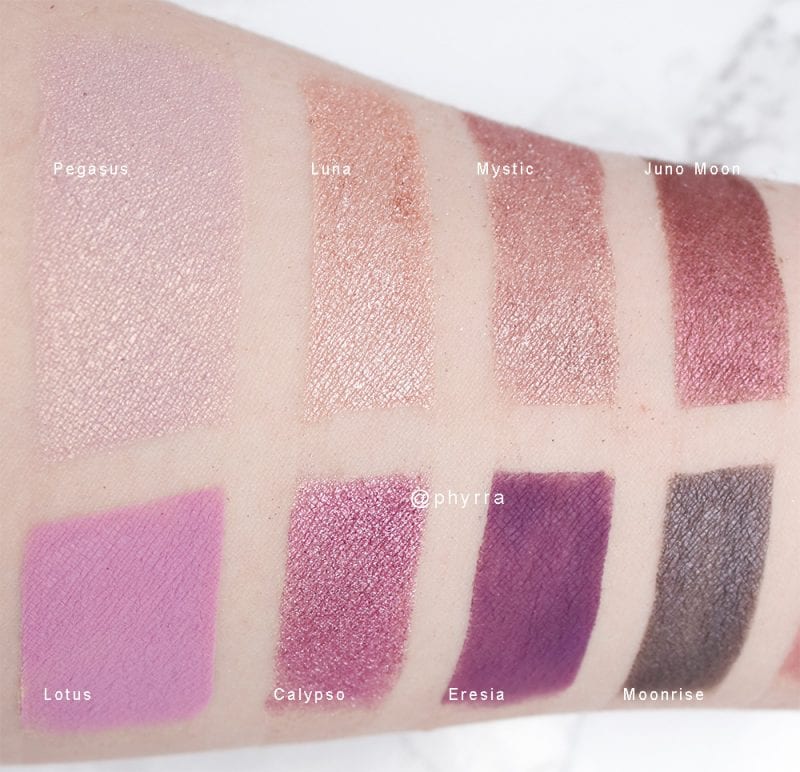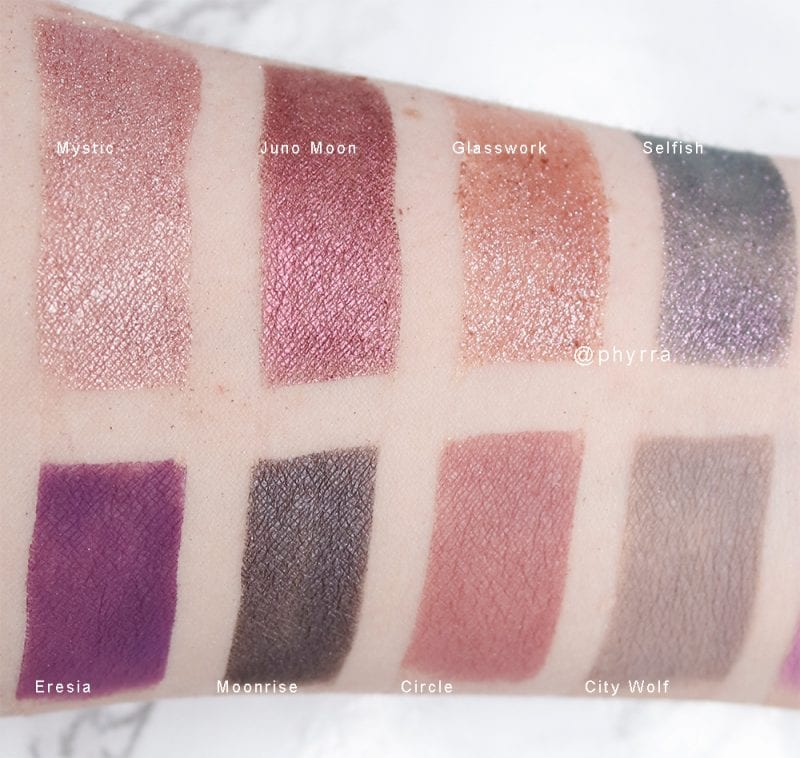 Mauve Christmas Set Shades

City Wolf – excellent dove-gray with a cool undertone. soft matte.
Moonrise – gunmetal with a hint of violet. bright.
Pegasus – pastel lavender duochrome with strong golden-champagne sheen. satin.
Circle – desaturated mauve of a medium tonality. soft matte.
Juno Moon – purple cyclamen on an intense rust base. bright.
Calypso – heliotrope purple with chrome plated cold violet. super bright.
Selfish – kaleidoscopic duochrome with a burnt teal base. celestial.
Luna – light pink champagne. bright.
Glasswork – hazelnut mauve. celestial.
Mystic – metallic mauve with pink-champagne reflects. bright.
Lotus – cool pastel pink. super matte.
Eresia – warm purple. super matte.
NABLA Singles
Narciso – neutral light brown with pink undertones. soft matte.
Lilac Wonder – medium violet with blue, lilac and wisteria sheen. satin.
Water Dream – nude top coat wet effect with reflective pearls.
Alchemy – burnt peach duochrome with fuchsia and teal reflects. celestial.
If you love these tones, be sure to check out my DIY Cool Berries Eyeshadow Palette.
NABLA Cutie Palettes
NABLA has released a ton of Cutie Palettes. These are curated 6 full-size pan palettes that are drop dead gorgeous. Because of my friend Angelica Nyqvist, I gave two of the Cutie Palettes a try once they came to Ulta. I bought the NABLA Cutie Palette Nude to start, then the NABLA Cutie Palette Coral. Their latex mattes are excellent and I really love their metal foil / reflects colors.
NABLA Coral and Nude Cutie Palettes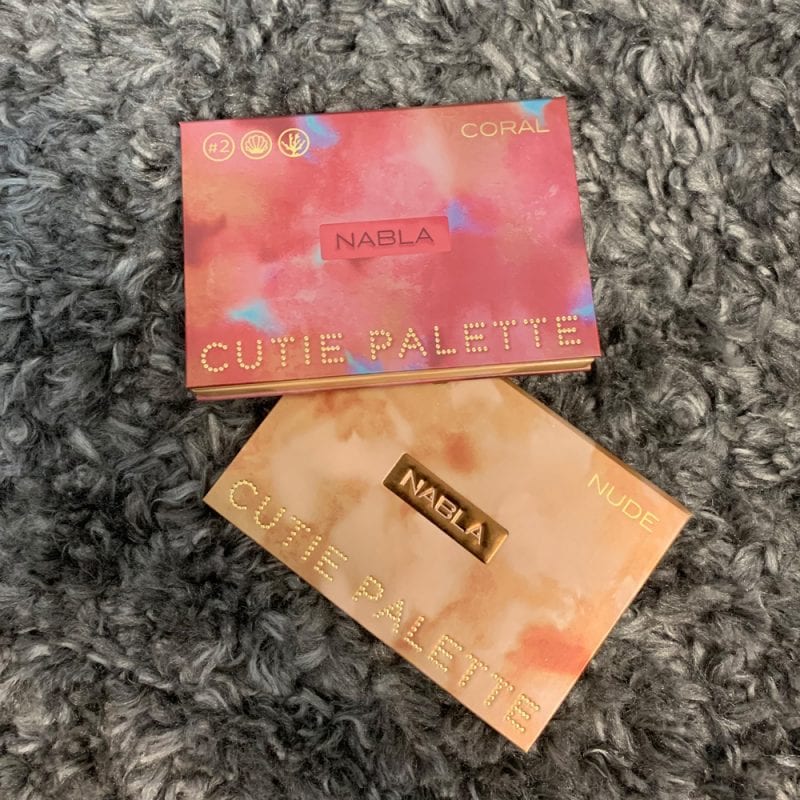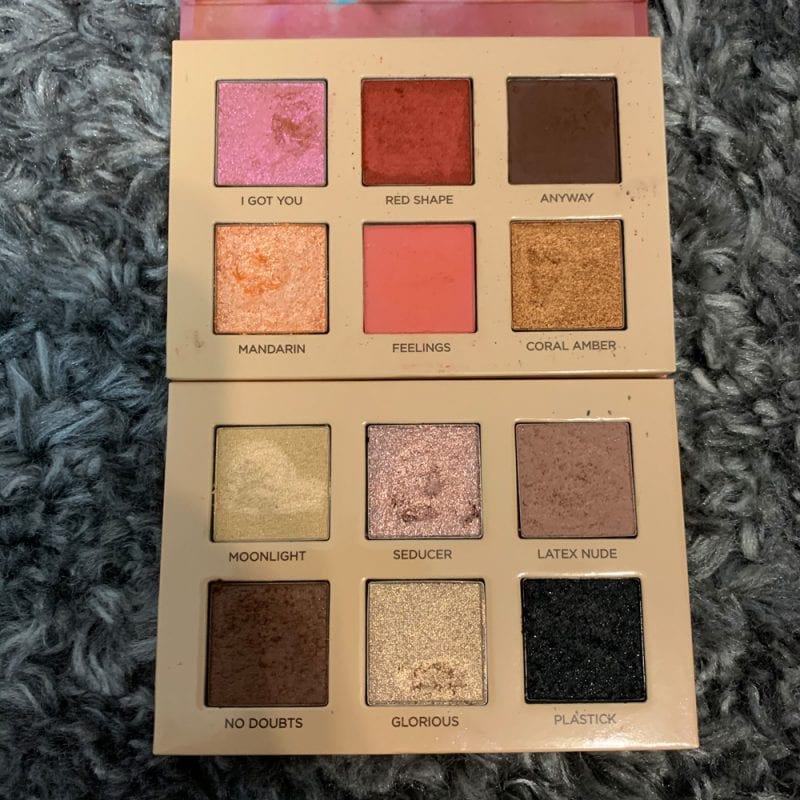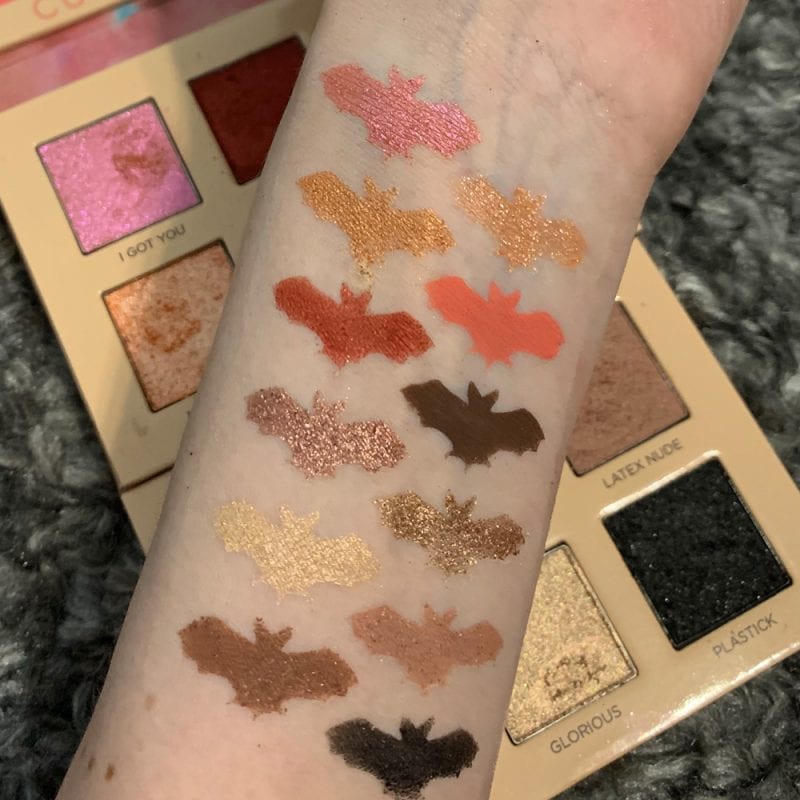 Indoors under studio lighting to mimic direct daylight.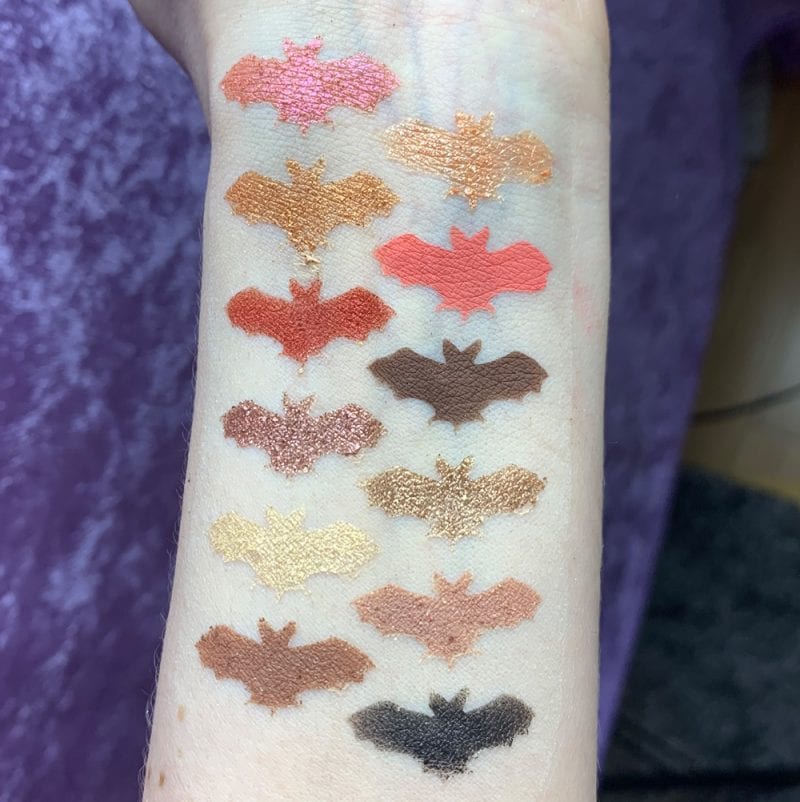 Indoors under studio lighting to mimic indirect sunlight.
Coral Cutie Palette Swatches
I Got You – Mandarin
Coral Amber – Feelings
Red Shape – Anyway
Coral Cutie Shade Descriptions
Got You – flamingo w/ duochrome magenta and coral reflects – metal foil
Red Shape – fire red w/ copper reflects – satin
Anyway – espresso – super matte
Mandarin – mandarin – celestial
Feelings – fluo coral pink – super matte
Coral Amber – coral amber w/ bronze reflects – fluid metal
Nude Cutie Palette Swatches
Seducer – Glorious
Moonlight – Latex Nude
No Doubts – Plastick
Nude Cutie Shade Descriptions
Moonlight – cream w/ delicate peach and pink duochrome shimmers – satin
Seducer – mauve w/ pink and gold reflects – metal foil
Latex Nude – medium-light taupe pink – latex matte
No Doubts – milk chocolate – latex matte
Glorious – light neutral golden bronze – metal foil
Plastick – black – latex matte
From the Coral palette, I Got You, Mandarin, Coral Amber and Red Shape are my favorites and awesome. From the Nude palette I love Seducer, Moonlight, Latex Nude and Plastick.
NABLA Summer 2020 Cutie Collection
I just saw that NABLA had dropped their Cutie Collection for Summer 2020 and despite being unemployed (but applying to jobs daily within my skill set), I ended up ordering 3 things.
The NABLA Summer 2020 release has 3 Cutie Palette installments in Platinum (cool toned 3-d finishes), Metropolitan (modern neutrals), and Wild Berry (red fruit). They created 3 different Cupid's Arrow Longwear Stylo liners in Arrow 1 (hazelnut nude), Arrow 2 (chestnut brown), and Arrow 3 (berry). Finally, there are 3 Glam Touch Lipsticks in Platinum (medium mauvy brown), Metropolitan (medium light nude beige), and Wild Berry (neutral berry). The Cutie Palettes are $24 each, the Arrows are $18 each, and the Lipsticks are $16 each.
I want to show you the palettes that I didn't order first.
NABLA Cutie Palette Platinum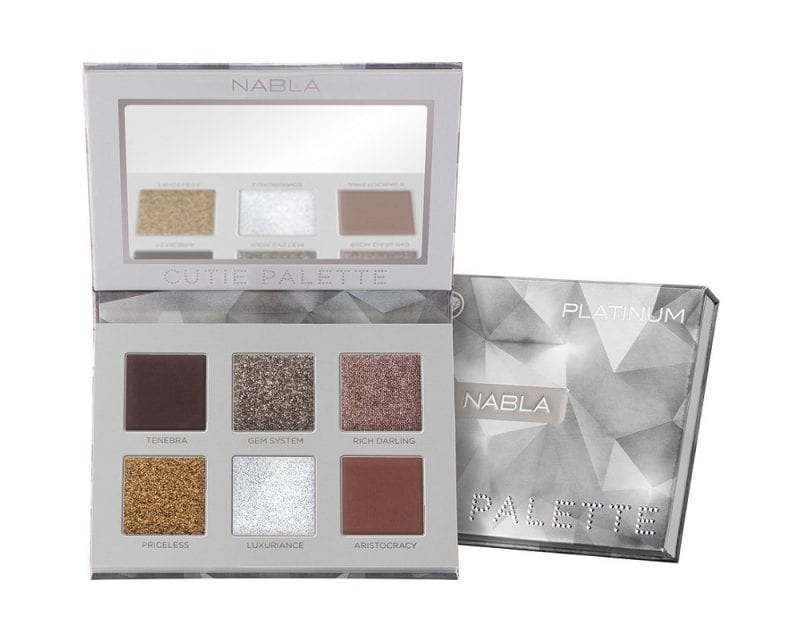 Buy the Platinum Cutie Palette
This is touted as a cool-toned palette from NABLA. I love how Rich Darling, Luxuriance and Gem System look.
Tenebra – graphite/taupe – super matte
Gem System – gun metal-khaki – super sparkle
Rich Darling – taupe with a hint of pink – fluid metal
Priceless – antique brass – fluid metal
Luxuriance – silver – metal foil
Aristocracy – dark walnut – super matte
NABLA Metropolitan Cutie Palette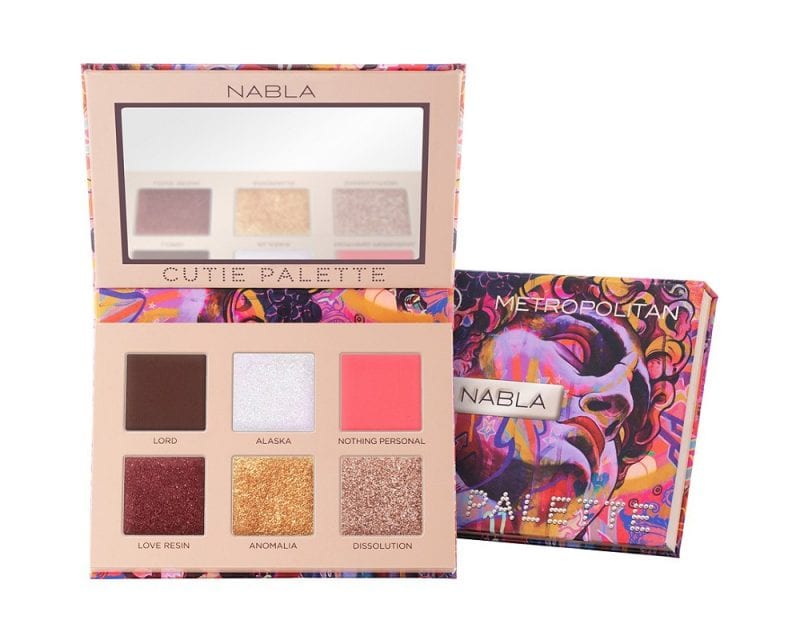 Buy the Metropolitan Cutie Palette
Lord – dark sandalwood – super matte
Alaska – trichrome top coat with lilac, pink and aqua reflects on a translucent base – metal foil
Nothing Personal – coral fluo – super matte
Love Resin – strawberry bronze with gold micro sparkles – fluid metal
Anomalia – 24K gold – metal foil
Dissolution – warm medium nude with platinum sparkles – super sparkle
The only colors that really speak to me in this palette are Alaska, Love Resin and Dissolution.
The above palettes are both pretty but didn't call my name like the Wild Berry Cutie Palette did.
NABLA Cutie Palette Wild Berry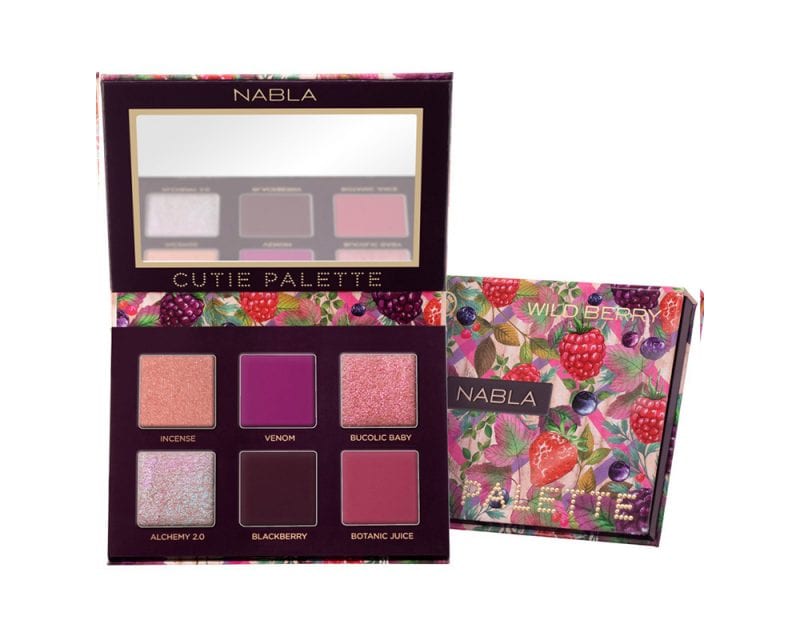 Buy the Wild Berry Cutie Palette
Incense – medium apricot beige – latex matte
Venom – intense berry – super matte
Bucolic Baby – medium peach with strawberry reflects – metal foil
Alchemy 2 – flamingo and teal duochrome – metal foil
Blackberry – intense blackberry – super matte
Botanic Juice – raspberry – super matte
Every color in this palette was calling to me, but especially Alchemy 2.0, Bucolic Baby, Incense, Venom and Blackberry. Yeah basically every color in the palette was screaming play with me!
NABLA Cupid's Arrow Longwear Stylos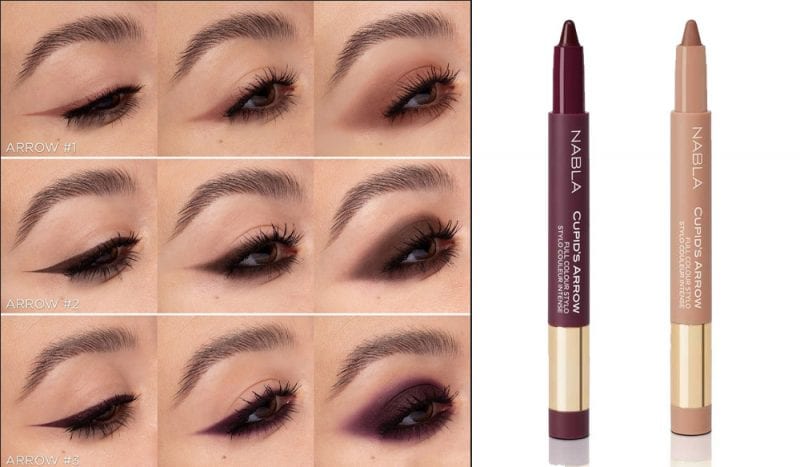 Buy the Cupid's Arrow Longwear Stylo
I have no idea how well the NABLA Cupid's Arrow Longwear Stylo will work but they were calling to me, especially the berry! NABLA says "they are a multi-use stylo pencil with a long-lasting, rich and creamy texture that will give immediate full color pay-off. Extremely easy to use and to blend. Perfect for smoked out application, but also precise as a Cupid Arrow." NABLA claims these are vegan pencils.
I love how it looks like they can do precise, long lasting all day eyeliner, as well as how it looks easy to smudge out. I bought Arrow #1 (hazelnut nude) and Arrow #3 (berry). I figure Arrow #1 is good for me to try for my more natural makeup days, while Arrow #3 is perfect for my more gothic, vampy or extreme looks.
I still have a slew of eyeshadow palettes to swatch, review and feature for you from my massive menagerie of makeup, so keep an eye on my Instagram Stories for swatch fests. I typically do those on the weekend.
Have you tried NABLA Cosmetics? What do you think of them if so? What do you think of the ones I ordered?